Just when you thought 2021 couldn't be any worse than 2020…
…Anxiety went 'off the chart'
You already know that last term was tough and most headteachers were consistently feeling more than twice the typical rate of high anxiety.
What we didn't know was that things were about to get worse. On Tuesday last week, more than half – half! – of all headteachers registered one of the highest work-related anxiety scores on our scale. Teachers also came in at their highest ever score. Even higher than the first lockdown.
That's how nightmarish it was for everyone to find out on Monday evening that lockdown was happening with immediate effect.
It's important to note that we didn't stick the question in just to capture how bad things were. We ask this question most Tuesdays (usually fortnightly). This is a genuine reflection of how bad things have got.
The cancelling of exams
One of the stressful aspects of last week's announcements was the unexpected cancellation of exams. Not everyone is happy about the situation and, given what teachers may now be asked to do instead, the cancellation may feel hasty.
However, as luck would have it, shortly before the announcement we asked you whether the exams ought to be cancelled. And most of you agreed (70%). This was a big change from October when you were much less in favour.
So what happens now?
Once the government announced the new lockdown, most of you sprang into action and a new round of homeschooling was born!
One teacher asked us to find out if you are expecting pupils to wear their uniforms when learning at home. Last year, this wouldn't have been possible as so few schools had the resources to run live video lessons.
Now, around 5% of primary schools require children to be suited and booted when learning online, and a further 18% said that even though it's not required, their kids choose to do it anyway!
However, another teacher asked if all schools were requiring pupils to have their cameras on? (How else can you tell if they're wearing uniform otherwise?)
It's a mixed bag, but in state primary schools, the most common answer is that pupils can decide for themselves. In private schools, both primary and secondary, it's most commonly required that cameras are on. And in state secondary schools the most common policy is that pupils are required to have cameras off. Why such a difference between state secondary and private schools? Do tweet or email us with any suggestions!
What about in-school teaching?
Teacher Tapp data lit up the TV networks last week, after your answers helped us show how many children were turning up in school last week compared to the first lockdown.
Here's a fancy picture of Lewis Goodall on Newsnight showing the difference for primary schools (March 2020 is orange; lockdown this year is blue). The bars closest to Lewis show there are higher proportions of students going into school now.
The easiest statistic for grasping this is that around 1 in 3 primary schools currently has over 20% of pupils in. Last year it was around 1 in 100. And no mainstream school had more than 30% in.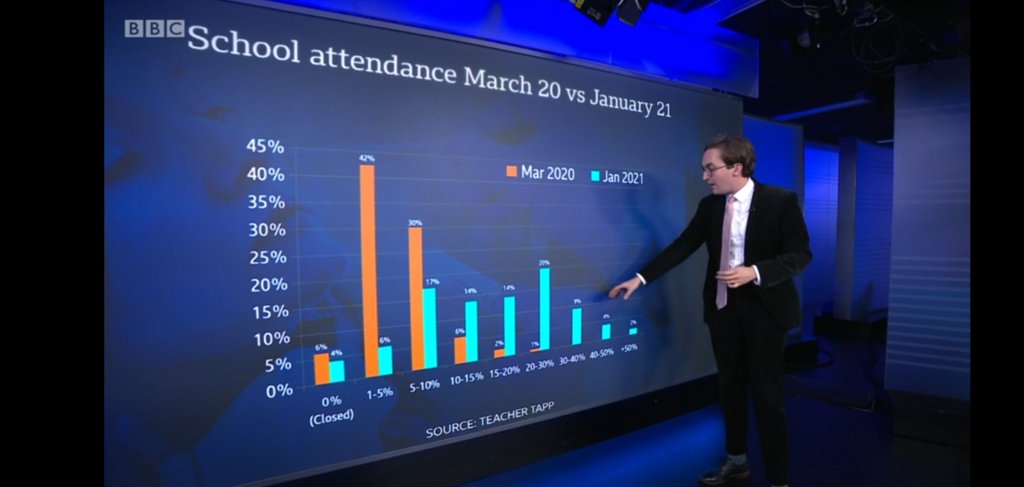 A big reason for this difference is that the government has said only ONE parent needs to be a critical worker. However, some schools have asked parents not to take up their place. You can see below that 25% of schools have said that if there is a non-critical worker parent, who is working from home, then the school expects the child not to attend. A further 23% won't accept the child unless their critical worker is working on that specific school day.
We had assumed that those schools with the most restrictive policies would have the least pupils in each day, but that hasn't been the case. Instead, heads are implementing restrictive policies to limit key worker children attending the school building in response to high demand for places in their community.
Schools are now expected to deliver at least 3 hours of learning a day to pupils – and many are now doing this via 'live' lessons. (That is, the teachers is either on a video call or is available to answer pupil questions). Primary teachers are often also having to contribute to supporting keyworker and vulnerable children in-school whilst remote teaching. The graph below shows that 27% of primary teachers are required to teach in school every day, and a further 10% are choosing to do so.
Is quality of internet connection affecting your choice to deliver live video lessons in school or at home? This is a question we'll ask you in the coming week.
So, is the requirement to 'live' teach, often whilst supporting keyworker children, causing greater numbers of teachers to put their own children into school? (Thereby beefing up numbers?) Compared to last March, three times as many teachers are using spaces in schools or nurseries. A conservative estimate would be that this is contributing an additional 36,000 children to the attendance list (around 2 per school).
Time for tips